Billions of wire hangers are used in the US every year. Almost no one buys them.
If you are like many Americans, you likely own or have owned a small collection of the billions (with a b) of wire hangers that are consumed in the US every year. And, also like many Americans, you probably came to your stockpile unwittingly — largely through trips to the dry cleaner — and are familiar with the fit of frustration that comes from opening your closet to find these forgotten objects somehow entangled in a metal mare's nest.
In the early 1990s, art dealer Frank Maresca had the unusual experience of such a collection being a sort of godsend. He needed a "throwaway show" for his New York City gallery — something simple and easy to occupy a fallow period on the calendar. His friend and artist-collector Harris Diamant offered an unexpected solution: his extensive reserve of vintage clothes hangers.
Maresca, whose Ricco/Maresca Gallery is known for showcasing contemporary outsider art, mounted one of Diamant's wire hangers on the white gallery wall.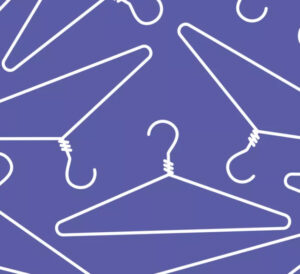 Encouraged, he pinned up 169 more. Soon Maresca had an exhibit ("Out of the Closet: American Hangers") and an accompanying write-up in the New York Times. "Stop laughing," reporter N.R. Kleinfield told readers. Within a few days, thanks to, ahem, wire services picking up the story, the exhibit went the print-era equivalent of viral. Soon the office fax machine was spitting out messages until they flooded onto the floor. Daily foot traffic increased into the hundreds. The mailman dropped off entire canvas sacks of letters from citizens the world over who hoped to convert their own closets into cultural cachet and/or cash.
"The whole thing was funny," Maresca says. "I mean, who ever gave a moment's thought to a hanger?"
Therein lies the unusual status of the wire hanger: an inescapable part of modern life to which everyone can relate but no one pays much attention. A 2007 study by the US International Trade Commission estimated US consumption at 3.3 billion wire hangers annually, or nearly 11 per capita at the time — a figure that does not even account for the wire hangers often included with "floor-ready" garments imported from overseas, as long required by major retailers like Macy's and Lord and Taylor. Upward of 80 percent of US wire hanger consumption comes via dry cleaners (uniform rental services comprise much of the rest), which employ wire hangers as a means of garment storage and transport so cost-effective they are included with their services.
It is wire hangers' very ubiquity that may have helped damn them to dangle from the lowest rung on the hanger hierarchy. Of course, it doesn't help that wire hangers are not particularly good at being hangers, often warping delicate garments that drape from them unevenly, nor that they are still the go-to symbol of illegal abortions in America's pre-Roe dark days. Their most enduring pop culture moment came in a disturbing and class-conscious depiction of child abuse, when Faye Dunaway famously shrieked "NO… WIRE… HANGERS!" in the 1981 Joan Crawford biopic Mommie Dearest (surely undoing the goodwill engendered by Halloween's closet scene three years earlier). No less an authority than the so-called Hanger King himself, industry magnate Bernie Spitz, once proclaimed that he would never sell them.
And yet wire hangers pioneered the form. It is commonly held, by those who commonly hold such things, that the hanger's origins trace to an 1869 patent by a Connecticut man named O.A. North, who designed what he termed an "improvement in clothes-hook" made from "bent-metal rod or wire." (This crediting is questionable: an 1852 patent for a shoulder-shaped metal wall hanger by fellow Connecticuter W.B. Olds clearly predates North's, while other predating patents from 1867 and 1868 also more closely resemble modern hangers. If at least some of these were born independent of one another, it would suggest a fitting inevitability.)
Read full article here